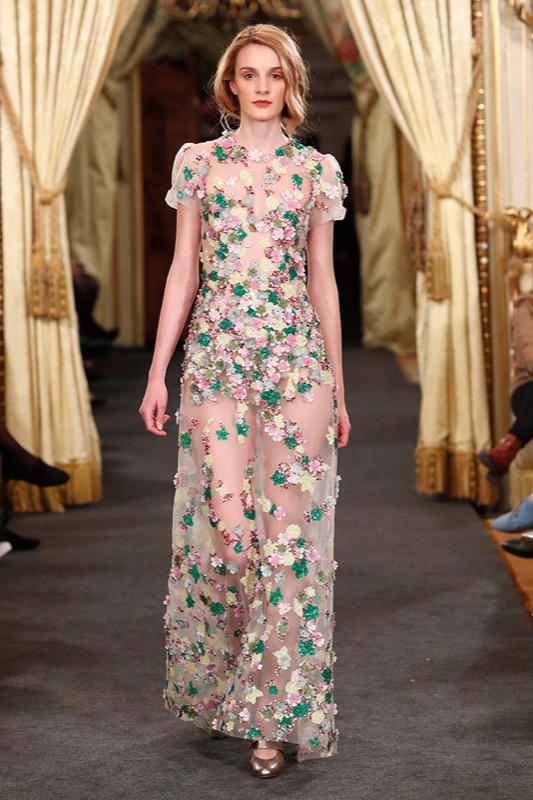 You know that it is spring when you begin to see colour in the form of floral prints in all their versions either in the street or on the catwalk. Embroidery, appliqués, petals in 3D … flowers decorate each of the fabrics with their natural beauty, becoming an imperishable trend that is renewed each season with surprising results.
In May, the month of flowers, we want to familiarise people with the outstanding look of this beautiful dress by Santos Costura made with one of our fabrics. It is a long dress with bold transparencies made from tulle embroidered with different flowers meticulously trimmed in pink, yellow, blue and green tones strategically placed in the dress and which together form a lush floral garden.
This feminine model by Santos López is part of the Atelier Couture 2018 collection and is conceived of as a party dress which gracefully accompanies the bridal gowns of this Catalan designer, who perfectly represents the values of exclusivity, personalized service and craftsmanship with entirely local production. This philosophy and know-how that we appreciate also proves seductive for his clients, among them renowned Spanish film actresses who have no hesitation in choosing a model by Santos Costura to step on the red carpet. For example, foremost among the most recent is the actress Nerea Barros, who wore the "spring dress in embroidered tulle" at the 2017 Malaga Festival .
This tulle embroidered with flowers and sequin motifs that so once seduced Santos López is still available in our store awaiting new forms of embellishment. Below we list some details for you, although it would be preferable for you to actually come and see it, touch and feel the fabric and appreciate it as much as we do – or indeed as Santos Costura does.
Finally, if you want to read the interview we did last year with the designer, click here.