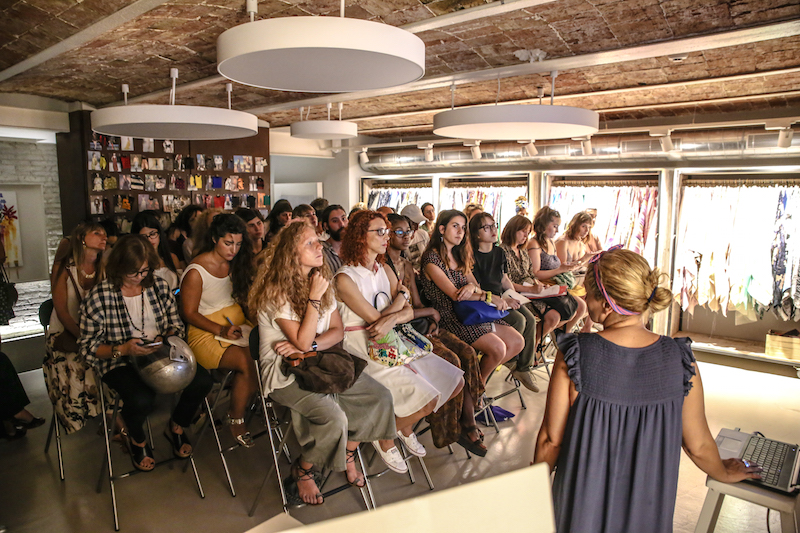 There are calls that excite us because of the enormous expectations they generate and the success of participation that certainly endorse their popularity edition after edition.  One of them is the Notebook of Trends  by Nelly Rodi.  This is an initiative that we have been promoting since last year to make known the main trends that will be of influence in the next year.  It is a guiding compass of the colours, fabrics and prints that people will be talking about.  This informative talk for design students will be led as always by Úrsula Uria, head of the prestigious research agency on trends in Spain.
This edition unveiled the four trends that will influence the summer of 2018, taking into account some of the global social, economic and cultural trends that influence fashion consumption.  These factors are:
1. In times of crisis there is a resurgence of nationalist values.  In this sense local consumption is prioritized and values such as origins and roots are given importance.  This is especially evident in areas as diverse as music or cooking.
2. It is a time of rebellion.  A consequence of the first macro trend. Tough times cause canons to be broken and new leaders, models and inspirations sought.  In fashion there is a commitment to diversity of mannequins.
3. Consumers are rational.  They know what they want, when they want it and how they want it and they apply intelligence above emotion. Purchases are no longer driven by impulse but by real needs. For example: healthy food with eco ingredients.
4. Free time is the new luxury.  It is what is most appreciated in a society so busy with duties and obligations.  Anyone who has time to travel, switch off and isolate themself … cherishes a real treasure.
Thus, taking into account these premises, the next Spring-Summer 2018 season will influence four trends in fashion: Booster, Horizon, Puzzle and Neodalisque.
1. Booster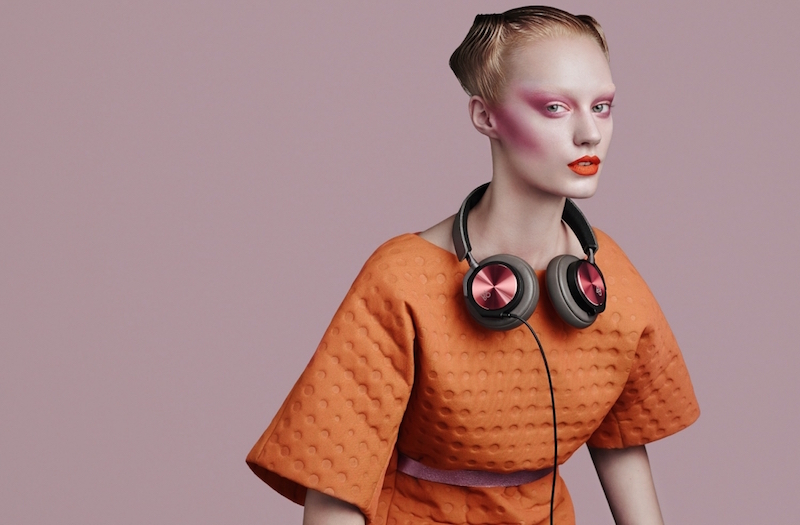 A colourful trend based on a mix of technical and sports and inspired by the countries of South -East Asia, especially South Korea.
References:  Pop music, smileys, digital language, geeky references, digital consumers, musical gadgets, futuristic inspiration from the 60s and 70s by Andrès Courreges and Paco Rabanne patterns.
Silhouettes: Priority given to collage, patchwork and patterning technique. The garments are very technical with ergonomic designs and volume is the name of the game.
Prints:  Metallized dyes and surreal motifs.
Colours:  Most are racy – pop – optimist shades – and the range of pastels is like mints.  Explosive combinations like green with pink or violet with orange are all the rage.
Fabrics:  Wearing of patent leather and fabrics with sparkles.
2. HORIZON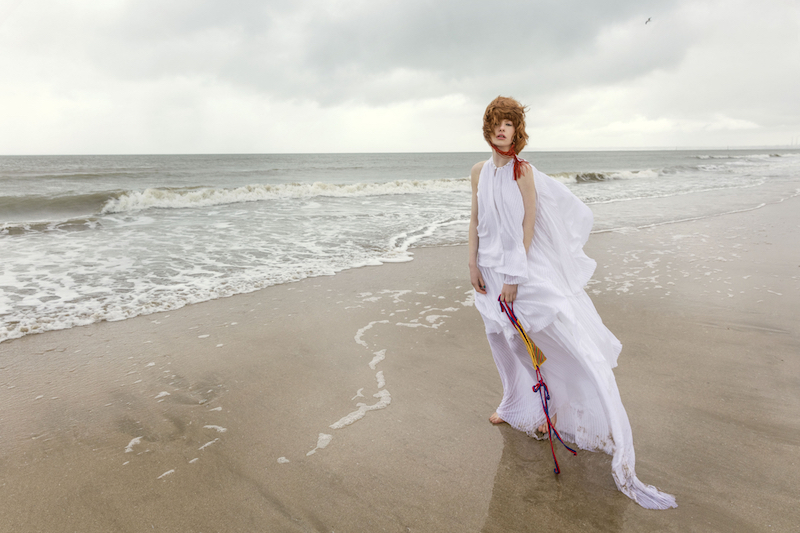 A minimalist trend based on yoga, meditation and slow lifestyle.  Inspiration is to be found on surprise beaches facing the ocean.
References:  A cooler interpretation of the sailor style and nautical universe, Loewe, Yohji Yamamoto, the Nordic countries, the beaches of Galicia, stones, handicrafts, fossils, ropes and hues of the sea on a cloudy day.
Silhouettes:  Deconstructed, minimal air patterns, loose and light clothing.
Colours:  Cold palette as blues, muted greens, grays and off – white.
Prints: Scarcely any prints. Prioritizing smooth garments.
Fabrics: Artisanal and light fabrics. Rough details.
3. PUZZLE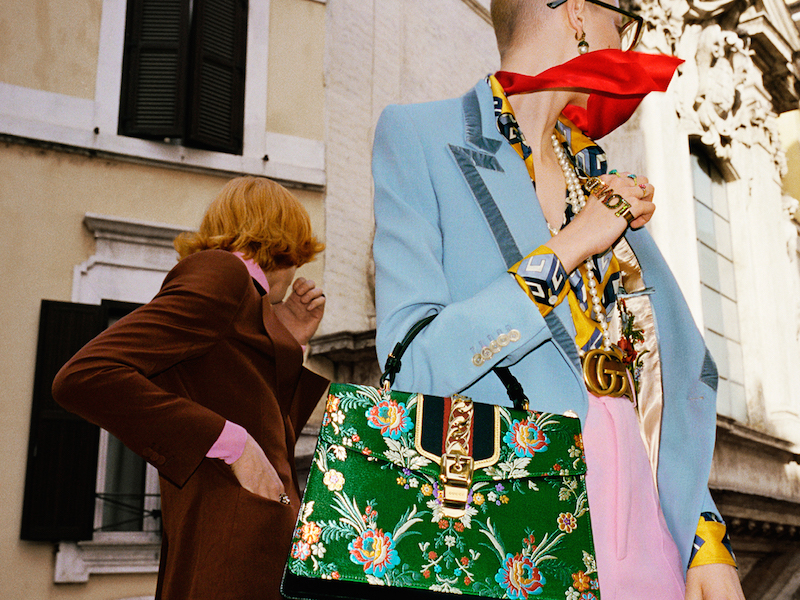 A circus-influenced trend based on show and excess. More is more.
References:  theatre, performing arts, surrealism, mix & match, the locker room of Circ du Soleil, the world of majorettes and most glamorous cowboy style.  The trendsetters are Gucci, Prada and Roberto Cavalli.
Silhouettes:  Mix of volumes, shoulders are the new stars, ruffles and styles taken to the extreme.
Colours:  Chromatic chaos.  Bright tonalities, fluorescent and contrasted with each other.  Examples: orange with turquoise, pink with yellow…
Prints:  stripes, zig-zag … The graphic nmotifs abound.
Fabrics:  patent leathers
4. NEODALISQUE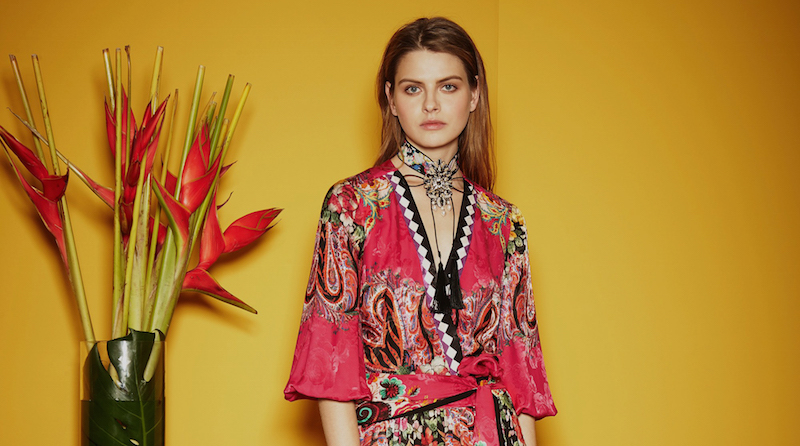 An oriental trend with ethnic roots based on the silk route. A step beyond the boho-chic style.
References:  Persian culture, oriental minimalism, ceramics, details on cintería, Etro prints, trimmings, fruit elements, mosaics, antique vases, carpets and exoticism of Sri Lanka or India.
Silhouettes: very long garments in skirts, dresses and coats, kafkans, kimonos, harem pants.
Colours:  Old gold
Prints:  Prints of exotic flowers and cashmere.
Fabrics: Artisanal